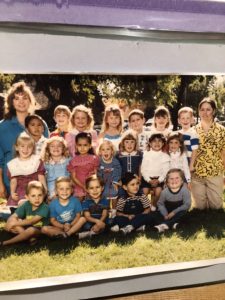 We have been playing a game on social media this month as we lead up to the WPNS Annual Children's Festival. I'm calling it, "YesterYear of WPNS". How many of these little munchkins do you recognize? How many are you still friends with? It is not the year I attended but I know 5 of them (still), 4 of which were siblings of my best friends growing up.
(I CANNOT WAIT to get to my year because I get to share about my continued friendships…).
ALUMNI, THANK YOU FOR YOUR CONTINUED SUPPORT OF THIS SPECIAL LITTLE SCHOOL. Every time I write about what this school has done for our community I get goosebumps because it is THAT SPECIAL. I always knew I wanted to send my kids there because I have such fond memories of attending it myself, but it wasn't until recently that I realize the depth of what it does for the kids AND for the parents. Not only is it an incredible play-based learning introduction for our children, it provides a family-like support group for both the children and the parents as we move onto Kindergarten. As I walk my son to Waggoner each morning, I am constantly greeting fellow WPNS alumni parents with waves and smiles. These are friendships that I have yet to see form in any other place – we work together, we have helped each others children form their own friendships, we reminisce and we confide in one another. So special! Love my WPNS FAMILY!